GLACIER NATIONAL PARK
Glacier National Park, nicknamed Crown of the Continent, is an ideal destination for those in need of a fun vacation and relaxing getaway. During the summer months, Glacier is home to an array of fun activities that can all be enjoyed amidst one of the country's most beautiful national parks, while the quiet paradise of the winter season offers family fun that can't be missed!
LODGING CHOICES
Historic Belton Chalet
When visiting Glacier National Park, there are a variety of accommodations to fit any traveler's needs! For a historical experience, try the Belton Chalet. Enjoy a peaceful dinner at The Grill Dining Room and try out seasonal beers at their attached tap room.
Glamping with Glacier Under Canvas
For a fun, new experience, try out the trend known as glamping. Glacier Under Canvas offers a glamping experience like none other with a variety of rooming options. Sleep comfortably in King sized bed, choose tents with attached bathrooms, and cook dinner in comfort with your wood-burning stove. Conveniently located just outside of West Glacier, Glacier Under Canvas offers Safari Tents, Deluxe Tents, Suites, Tipis, and Standard Cabins.
Golf and Swim at Grouse Mountain Lodge
For a more traditional stay with a variety of nearby activities, there's Grouse Mountain Lodge, a hotel located right across from the Whitefish Lake Golf Club. Complete with an indoor pool and 2 outdoor spas, this location also boasts a business center, wine room, tennis courts, and a fully-stocked fitness room.
Historic Tamarack Lodge & Cabins
Stay at Historic Tamarack Lodge & Cabins where you can rent mountain bikes or grab dinner and drinks at the Saloon.
Ski with Whitefish Mountain Resort
For serious skiers, consider the Whitefish Mountain Resort, rated as one of the Top 10 resorts of 2016 by SKI Magazine. The resort sits on a property of 3,000 acres. Their trails are well-maintained and suitable for skiers of all ages and experience levels.
Skiing at The Izaak Walton Inn
The Izaak Walton Inn offers vacationers professional ski instruction and convenient access to the ski trails. This hotel also includes a game room and Dining Car restaurant.
Cozy up at The Cottages at Glacier
Visitors can also keep cozy and warm in a private cottage rental from The Cottages at Glacier, situated near the East Entrance of Going-to-the-Sun Road.
WINTER FUN
Immerse yourself in an unrivaled winter wonderland at Glacier National Park. All the beauty of nature is revealed in this quiet, peaceful season when you can enjoy clean air and wildlife free from the crowds. Winter offers a scenic experience like nothing you've experienced before. All day long, crisp white mountains sparkle against a dazzlingly clear blue sky as you inhale the clean, refreshing air. In the evening, a warm, orange-red glow reflects radiantly off the mountain tops and frozen lakes. Keep warm with hot cocoa as you watch a gorgeous sunset lighting the frost-covered landscape on fire. Come for fun, snowy adventures and enjoy activities like guided snowshoeing or backcountry tours.
Winter Season Skiing
Glacier in the winter is a skier's paradise! You can experience some of the best trails in the country when you visit Glacier National Park. The area is well-known for its abundance of snow and moderate winter temperatures. Destinations like Big Mountain and Blacktail Mountain Ski Area offers skiing and snowboarding lessons with certified instructors as well as equipment rentals. Tackle over 1400 feet of vertical elevation amidst an average of 250 inches of snow every season.
Dogsledding
Travel across the backcountry of Montana being pulled by strong, Alaskan huskies. Keep warm in a comfortable sled as you survey sights you may never have the chance to see again. This is an adventurous ride suited for all ages where you might spot a glimpse of rare wildlife or catch a little bit of air as you zoom through the snow-covered paradise.
Sleigh Rides
For a quiet, peaceful tour, you can enjoy horse-drawn sleigh ride across a winter wonderland, bundled up in blankets, taking in the sights and sounds of nature.
Snowmobile Tours
View the pristine valleys and high rising mountain tops on an exhilarating snowmobile tour through Glacier National Park. Spend the day zooming through powdery snow and adventuring across the country trails. Later, you'll be ready for a hearty dinner and a relaxing evening cozied up next to a warm fire.
SUMMER ADVENTURES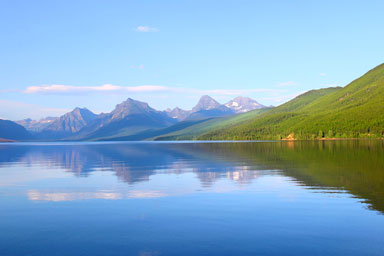 Hiking Trails
Explore the beauty of Glacier's many bodies of water. See St. Mary or Iceberg Lake, a stunning lake enclosed on three of its sides by tall mountains. Experience the stunning sights of the sound of gushing mountain water of the Virginia Falls up close or catch a glimpse of native wildlife as you travel through Montana's breathtaking backcountry.
Local Activities
Head to nearby Whitefish or the larger city of Kalispell to enjoy some shopping and local restaurants. You can also bask in the glorious sounds of Kalispell's Glacier Symphony and Chorale or enjoy live theater at the Alpine Theater Project in Whitefish.
Local Wine & Beer
If you're visiting in the summer, make sure to check out some of the nearby brewfests where you can taste local beers from dozens of Montana brewers. Glacier County is also home to a number of wineries, all featuring premium wines that must be tried! Montana is equipped with low humidity, warm days, chilly nights and a high elevation that is favorable for producing delicious wines! Wine lovers must taste all of the sumptuous flavors crafted from the dazzling sunlight, fresh mountain air, and unique local fruits.
Zip Lines at Big Mountain
Available June through September, Big Mountain offers exciting zip line tours, the longest Montana has to offer. With seven separate lines placed 300 feet above the ground, this thrilling experience is not to be missed! There are side-by-side zip lines that allow you to race your friends and family across the Glacier landscape, the longest zip line coming to 1900ft above a valley floor.
Water Activities
Don't miss out on kayaking or boating at Glacier National Park! Imagine trailing across one of Glacier's sparkling lakes by boat or kayak as you gaze up at the tall, sunlit mountains. Kayaking includes guided tours and can be done on your own.
Alpine Slide
Fun for all ages, the Alpine Slide offers an exciting sled-ride down a long slide with drops and curves. Available during the summer season, you can get the exhilaration of tubing or skiing even when there's no snow on the ground.
Big Sky Water Park
Family fun awaits at the Big Sky WaterPark! Montana's largest water park features ten different water slides, a whirlpool, and a kid's activity pool. Zoom down the seven-story-tall Geronimo Speed Slide or follow the tumultuous turns around one of four Twister Slides! Don't forget to make time to play mini-golf and a round of bumper cars, or climbing the rock wall. There is also an antique carousel as well as water balloon wars! Family fun at the Big Sky WaterPark begins in June and goes all the way through late September.
The Amazing Fun Center
There are more good times to be had at The Amazing Fun Center as your journey through the first 3D maze ever built in North America. Discover your way around 1.5 miles of passages and overhead walkways. Travel as a team or challenge one another to a race, seeing who will be the first to get a stamp in all four corners of the maze before finding your way out. After you've completed your journey, ride go-karts or enjoy a fun, bumper boat battle equipped with squirt guns to soak your opponents. The equipment is well-kept, containing clean motor engines for a stress-free and enjoyable experience. Then take a turn at the Bankshot Basketball, where you rotate through over a dozen different baskets with fun and unique backboards. Family fun at The Maze can be had May thru September of each year.
Helicopter Tours
For a unique and comprehensive view of Glacier that you can't find anywhere else, schedule an unforgettable helicopter tour! Of the many different types of tours offered at Glacier, this is one that can't be missed. On the ground, the mountains and cliffs tower above you, but by air, you get a panoramic, birds-eye view of the mountains, lakes and other natural landforms.
Glacier National Park offers a delightful experience for visitors of all ages and interests, at any time during the year! Bring your family in the winter to enjoy lots of ski trails and hot cocoa. Come in the summer for warm nights filled with local entertainment and unforgettable mountain views! Book your trip now and make memories that will last a lifetime!